ABOUT MARK:

I would just like to start by saying hello and thank you for taking time to visit my site. My name is Mark Antonios
and I am a licensed construction supervisor and a home improvement contractor servicing the south shore and surrounding areas. I've been in business for approximatly 25 years and started my career in home remodeling by framing new homes in Connecticut while maintaining several multi-families properties that I used to own. After ten years of working in Connecticut, I decided to expand and grow my business into southern Massachusetts.
Soon after I decided to move north and ended up settling in Randolph Massachusetts. Randolph is a great location and a short drive to the ocean and Cape Cod is only 45 minutes away. I am married to a beautiful wife and have one beautiful daughter that I spend all of my time with when I am not working. I tend to live a simple and positive life and enjoy staying fit by going to the gym, attending church and spending time with family and friends. My motto is to keep all your home projects simple and efficient.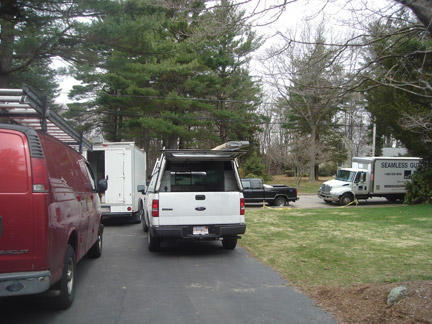 ABOUT THE CREW:

Welcome to Antoniosremodeling.com, custom home builders, residential remodeler and remodeling contractor servicing the Norfolk & Plymouth counties.Antonios Remodeling is a Massachusetts general contractor, Specialized in custom home builder and remodeling contractor featuring kitchen remodeling, bathroom remodeling, home additions, custom design-build construction and commercial improvement in Massachusetts.Antonios Remodeling provide construction and remodeling services, Our professional crews can supply a variety of services, from light fixes to heavy construction.Whether you plan to fix small project, remodel your bathroom, get a room addition or have a complete home remodeling, you want an expert contractor on your side.As a full-service general contractor, we have developed a proven track record of providing quality workmanship with integrity.We have provided remodeling services for over 25 years, specializing in kitchen, bathroom, and home remodeling.We are capable of handling your largest and most complicated projects, with previous customer's projects ranging from a few thousand dollars to over one hundred thousand dollars.We at Antonios Remodeling are here to assist you with constructing your dream project.
Licensed & Insured
Customer Service & Quality
Our commitment to building quality and value into each home, utilizing quality materials, professional craftsmanship, and cutting-edge technology. We take much pride of our reputation. Our repeat and referred customers constitute a great percentage of our ongoing business.
Antonios remodeling and home improvement specializes in the following:
Rotted Wood
Completed Addition Experts
Basement Experts
Windows
Doors
Cabinets
Kitchens
Leaks
Roof Repairs
Ventilation
Decks
Trex decking
Pressure Treated Lumber
Handrails
Porch Enclosures
Closets
Shelving
Bathrooms
Sills
Interior and Exterior Trim
Siding
Siding Repair